The Birdsong Birds Story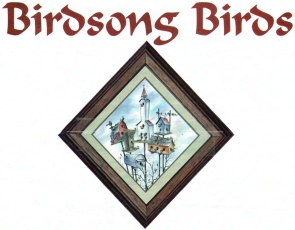 In the early 1970s, I entered the art market by displaying my work at art shows. Often while showing my paintings, I was asked why I didn't do painting with birds since my name calls for a bird. While doing a shopping center mall show in Lubbock, Texas, I began doodling with ideas and came up with several types of birds. Some were fun. Some cute, and others just birds. I painted a few "fun" birds on a barbed-wire fence, and shoppers began looking over my shoulder and asking if I would sell them. Thus, the Birdsong Birds began by popular demand.

For many years I had focused on a "standard" size (4" x 23") and set of 19 paintings of birds that are on wires with vertical or horizontal orientations. In 1987, I began giving titles to these paintings. The titles gave the birds a personal quality and a message.

My new take on the Birds, comes from the urging of my daughter and son-in-law. They convinced me to do two things: 1) Make the new set of Birsong Birds a truly standard size (5" x 7") that is easy to frame, and 2) Offer customized Birds paintings. I had previously done this for family for many years, but I am now making truly customized Birds paintings available to everyone.

Add a little personality to your home or office with a unique work of art from the Birdsong Birds collection.